Massacre in Gaza
BubbleShare: Share photos - Play some Online Games.

 NO TRUCE - Israel Massacre Continues - Over 400 Dead
Congresswoman McKinney's Relief Boat Hit By Israeli War Ship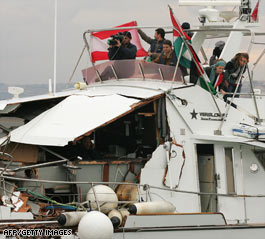 An Israeli patrol boat struck a boat carrying doctors and supplies to Gaza early today in the Mediterranean Sea, witnesses and Israeli officials said. CNN correspondent Karl Penhaul was aboard the 60-foot Dignity when the boats collided. It was "very severely rammed" by the Israeli boat, Penhaul said. Also on the Dignity were several human rights activists, including former U.S. Rep. Cynthia McKinney. full story

 
Petros Karadjias/AP
Cynthia McKinney is aboard the yacht Dignity, which set sail from Cyprus on Monday.


 OBAMA WILL BE TESTED

 

Biden is correct, some foreign leader is  going to try the steel of Obama, but which foreign leader will it be? Will it  be Russia, Iran, China, or North Korea? None of the  above. It will be Israel. The forces of evil have already raised its ugly head. What Obama wanted to do with world diplomacy, re-establishing the credibility of the US especially in the Muslim world, Israel is making that extremely difficult.  President Bush has already blamed the victims (Gaza) and justified the perpetrators (Israel) for the violence in Gaza. That is the same as a woman being brutally rape and the judge arrest the woman and blames her for allowing the rapist to rape her. The people of Gaza are being killed with American made and American donated F-16 fighter jets, GPS-guided GBU-39 smart bombs, and Tanks.    Why is it that every time Israel raid Gaza,  Ramallah, Hebron, or Lebanon , the United States that pays?  What was Israel doing at 911? They were in Ramallah doing the same thing that they are doing in Gaza now.  It was the unbalance America foreign policy in the Middle East that caused 911 and led the US into the Iraq war. According to Bush advisor Philip Zelikow  "the IRAQ war was launched to protect Israel." The only problem is that Americans are giving their lives and Israel politicians are laughing all the way to the bank. This unbalance policy has also caused the US to lose its credibility and positive standing in the World as well as thousands of lives.  Is America  going to allow Israeli politicians and American Zionist Lobbyists to continue to put the American people in harms way? Yes, Muslims worldwide will continue to say "no justice no peace"  Christians worldwide should also cry out and condemn the actions of Israel.  When will the US foreign policy in the Middle East be fair and balance? When are the American politicians going to say enough is enough?  Will Obama be fair and balance? Or will Obama be controlled by AIPAC and the Jewish lobby?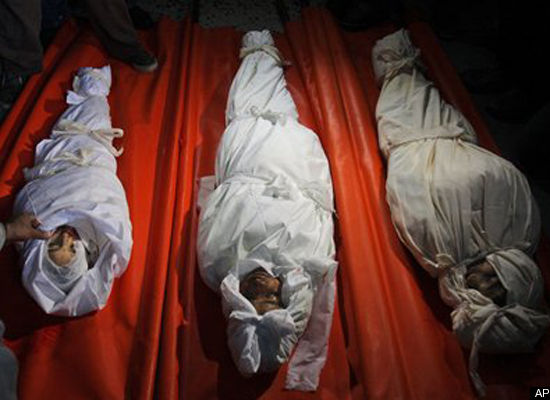 | | | |
| --- | --- | --- |
| | • • • • • • • • • •Three Palestinian brothers Sidki, 8, Ahmad, 12, and Mohammed Absi, 14, (no left-right available) who were killed in an Israeli missile strike, during their funeral in Rafah refugee camp, southern Gaza. | |

 

Some 360 Gazans have been killed since Saturday, the UN says

The White House has given its tacit backing to Israel's military operation against Hamas and the Gaza Strip, a flare-up that is threatening to seriously complicate any peace efforts envisaged by the incoming administration of President-elect Barack Obama.

"The United States understands that Israel needs to take actions to defend itself," said White House spokesman Gordon Johndroe.

"In order for the violence to stop, Hamas must stop firing rockets into Israel and agree to respect a sustainable and durable ceasefire."

It is an attitude that is very similar to the one adopted by the Bush administration during the 2006 war between Israel and Hezbollah in Lebanon - calling for a sustainable cease-fire and a lasting peace rather than pressuring Israel to immediately halt a military operation that was killing civilians. 

President Truman said that the Jews would not be overrun by Arab forces, and he abandoned the trusteeship proposal that the US had put before the UN earlier.

About 726,000 Arabs fled or were driven out of Israel and became refugees in neighboring Arab countries

UN General Assembly Resolution 181
Arthur Koestler's

 

Book The Thirteenth

Tribe..Who Are Modern-day Jew?


ZIONISM: A BLIGHT ON THE JEWISH PEOPLE




ISRAEL WAS NOT FOUNDED AS A JEWISH STATE, IT'S FOUNDED AS OCCULT STATE (like the U.S.): This report will shock and upset some; it is one I have put off for over 4 years. After struggling with it I have decided now is the time to write it. Knowing it could be misunderstood as anti-Semitic. God forbid that I a Jew should ever say or do anything that would be remotely considered as such, but I must admit this report does not come easy for me. The fact still remains that an evil force has been put into place in Jerusalem and has spread throughout Israel,…This report will prove that such a move is underway and has been for quiet some time……the architectural design of the New Israeli Supreme Court Building designed and paid for by Rothchilds reflects instead only the presence of Free Masonry & Illuminati architecturally.

Rothschild's ISRAELI Supreme Justice Building is an occult Masonic shrine - NWOauthor: Jerry Golden

 

israel was not founded as a jewish state, it's founded as occult state…

 

                                 

 

1 - The Israeli Supreme Court in Jerusalem.
                                 

 

2 - Invert Cross: the only cross here, & you trample on it, w/ Muslim gravesite
                                 

 

3 - Only Obelisk, in Rothschild's garden
                                 

 

4 - Bit of Far East symbolism placed here
                                 

 

5 - Rothschild's sign, pointing to the only Egyptian obelisk
                                 

 

6 - Rothschild's emblem, pointing to the only Egyptian obelisk
                                 

 

7 - After passing through security, first thing you will notice: Rothschilds
                                 

 

8 - "Darkness to Light": Masonic 10 steps x 3 = 30 steps…& get this…(to #13)
                                 

 

9- view; top of 30 stairs,the 'light' of Jerusalem connects with ancient areas
                                 

 

10- map of occult laylines in Israeli capital buildings extending into city…
                                 

 

11-…soldered into stone architecture, & metal lines trace BETWEEN buildings
                                 

 

12- ley-line runs up the center of eye-pyramid seen through window
                                 

 

13- ..library, 3 other tiers: topmost PRIVATE,ex-judges only,looks up at pyramid
                                 

 

14- numerology squares directly below eye-pyramid view in open space below
                                 

 

15- courtrooms shaped as ancient Jewish tombs, you enter them, missing keystones
                                 

 

16- Jewish Miskan design brought to plan,eye-pyramid as holy of holies in temple
                                 

 

17- courtyard brings stone from world's largest natural crater
                                 

 

18- going down other 'symbolic' stairs,feminine Gnostic 'womb' fertility symbol?
                                 

 
BIBLEPROBE Catholic Uncategorized BIBLE, Creflo Dollar Randy White Paula White, Evangelical,  E.V. Hill KABBALLAH,  Joe Van Koevering R.W. Schambach Joe Aldrich Joe Garlington Gerald Falwell Potter's House Ernest Agley Pastor Stephen F. Smith Council of Trent Jack Hayford Dave Breese Chuck Smith Bob Larson Sherlock Bally Paul Lelonde Peter LeLonde Jentezen Franklin Sky Angel John Holland John Ankerberg Larry Burkett theology Charles Blake Charles Stanly church Eddie LongPolitics benny hinn Billy Graham Charles Green Phil Wogoman conspiracy current events Jack Van Impe John Hagee Kenneth Copeland Mason Pentecostal qabalah rod parsley Steve Keohane T.D. Jakes Billy Joe Daugherty, Joe Van Koevering, Bishop T.D. Jakes CABALAH Floyd Flake happy caldwellHarold Ray Kenneth Hagin Pat RobinsonPaul Morton Pope Pope Benedict XVIRichard Roberts Richard Shakarian SwindolT.Lahaye TRUTH TV evangelist VaticanWORD apostasy jesse duplantis Mark Chironna ministry Pope John Paul IIFreemason joel olsteen robert SchullerRussell Bean S. Lukens babylonBULLINGER Illuminati MUNROE NWO true worship WOODROW clarence larkin cliff forddaniel bohler drosnin michael Fredick Price J. Reyes jack van impe ministries john hagee zionism MURDOCK Russell Bean,Joseph Reyes,S. Lukens Tim Lahaye Anti-Christ Doctrine H.Lindsey Jane Hanson - Aglow International Jesuits John Hagee MinistriesKenneth copeland ministries kenneth hagin ministries lighthouse production lighthouse world ministries Christian Science hinson, Knight of Columbus Knight of Malta worship, Frank Wright,  knights templar Thomas Ice, Bishop Charles Blake end-time-eventsmunroe,murdock,woodrow,bullinger,meyerRoberta Combs Christian Coalition, Assemblies of God branch of david Christian Word Ministries Doug Kreiger frontier research publications Golden Dawn ice & demy jan markell jimmy swaggard Jonah Immanu Morning Star Ministries NRB Olive Tree Ministries saints harvest ministries TBNCatholicism Christian COGIC Dallas Theological Seminary garth coonch GJCNGlobal University God Grant Jefferies Grant Jeffery history InTouch j.vernon mcgeeJames DeLoach James Kennedy Jeruselamjohn macternan john walvoord law logos publishing National Association of Evangelicals Oral Roberts Southwestern Assemblies of God University Southwestern Baptist Theological Seminary Stephen SmithTerry Risenhoover Tony Smith truthnet van kampen blackie gonzalez charles phillipsDaVinci Code GOSPEL Israel jerry roseJesus Jews for Jesus lambert dolphin Liberty University Messianic Ministry Moody Bible Institute mormanism New World Order Adolfo Nicolas Jesuits General Bloodlineprophecy Regent University Rick WarrenRobert Tilton Cabbala DISPENSATION, Druids Futurism hilton sutton John Nelson Darby living occult Priory Sion ReformationRex Humbard roberth de'andrea Rosicruciansusan minot ZOA Armageddon books cultfalse-doctrine Omega Code rapture readyTemple Barack Obama Gravel HarpazoHillery Clinton Jeruselam Temple Joe BidenJohn Edwards John Mccain Middle East Conflict Mike Huckabee mind control Mitt Romey mystical rapture rapture Ron PaulSam Brownback Tommy ThompsonArmageddon cult rapture end-times HaaretzHope of the World Left Behind new thoughtprophecy online SECRET RAPTURE The-Word truth about rapture last days eventsnews Revelation ribera Ten CommandmentsThe-Pope tribulation True Israel YouTube President Baal worship Lords Day megiddo post tribulation pre-tribulation scientology Second ComingAIPAC Anti-Protestant Blessed Hope book Christian Zionism Dwight L Moody Franklin Graham Gary BauerHaram al-Sharif Janet Parshall Luther Oxford University Press Southern Baptist America Values Anti-ReformationIgnatius Press Ignitius Loyola International Fellowship of Christians and Jews Millennium pagan Ralph Reed rapture cult Return of Jesus Ten Commandment Commission The Rapture William Blackstone Bridges for Peace Holy LandInternational Christian Embassy Israel Christian Advocacy Council Jerry Savelle Ministries International Joyer Meyer Ministries Life mormonism Temple Mount Cyrus ScofieldJuanita Bynum Ministry Larry Huch Ministries Lord Northampton Marilyn Hickey MEMBI secrets ron paul