Pastor Benjamin T. Hailey Sr.
received his education in the
Steelton-Highspire
School system, matriculating to the
University of Cincinnati where he graduated with a Liberal Arts Degree. Pastor Hailey has studied at

some of the top Illuminati schools including
Moody Bible Institute
,
Jerry Falwell
's
Liberty University
and Palmer Theological Seminary. Pastor Hailey has the credentials to bring St. Mark under complete illuminati control and promote the illuminati agenda.
Steven Arnold Marriage Licenses to Third Wife
Dec. 11-2012 - Marriage Licenses
Steven
Arnold, 52, and Regina Hildreth, 44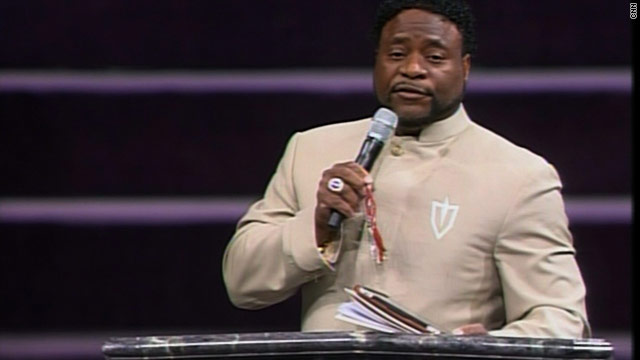 Bishop Eddie Long has talked bluntly about homosexuality and his attitude toward women in his sermons and books
From God's word as sperm to calls to "look at yourself naked in a mirror," Bishop Eddie Long, who faces allegations of coerced sexual relationships with young men, has a long history of sexual references in church.
FULL STORY
October 21, 2010
There is a growing group of New Birth Missionary Church members who want to see him step down, at least until the allegations are dealt with.
Apparently, the church members found out about Long's sex abuse allegations with the rest of the world. His lack of keeping the members in the loop also occurred when the controversial billboard of Long went up without the consent of the church. Long's billboard said, "Love like him, Live Like Him, Lead Like Him," along with a gigantic picture of Long.

It sounds as if Bishop Long has created a world for himself where he calls the shots, and the Board of Directors of the New Birth Church will do anything he says. They were the ones who OK'd the billboard and the money to erect it.

According to the San Diego News article, the members of the board are "a meaningless group of folks who will rubber stamp anything Bishop Long tells them to." The board consists of close friends and family members of the Bishop. This could not be better for Long when wanting to push something like this "pro-Long" billboard up.

Another problem that the church members who are circulating the petition have is Long's lack of addressing the allegations definitively. Bishop Long's address to the church was "vague, unsatisfactory, and lacking specific information in talking about the allegations levied against him," and has many people in the church disturbed, according to the San Diego County News.
The Illuminati built and controls Eddie Long and the church. He is a Bishop and is above the normal standards that governs regular ministers. Long has impunity

Eddie Long
says church is still standing faithful
(but are they faithful to God)
Atlanta Journal-Constitution - Oct 19


Lawsuit Accuses Bishop Eddie Long of (Rape)
Sexual Abuse of Boys