A
former Ft. Campbell, Ky., soldier was sentenced today by U.S. District Judge Thomas B. Russell to life in prison after being convicted on May 7, 2009, of charges arising out of the rape of a 14-year-old Iraqi girl and the murder of the girl and her family, Assistant Attorney General Lanny A. Breuer of the Criminal Division and Acting U.S. Attorney Candace G. Hill of the Western District of Kentucky announced today. S
teven D. Green, 24, was convicted by a federal jury in Louisville, Ky., on all charged counts, including premeditated murder, aggravated sexual abuse, felony murder, conspiracy to commit murder, conspiracy to commit aggravated sexual abuse, use of firearms during the commission of violent crimes and obstruction of justice. The jury that convicted Green said it was unable to reach a unanimous verdict on whether the defendant should be sentenced to death. Because the jury did not unanimously reach a decision on the death penalty, the court sentenced Green to life in prison. Green was indicted by a federal grand jury on Nov. 2, 2006.Green was charged with the crimes following an incident that occurred on March 12, 2006, in and around Mahmoudiyah, Iraq. According to evidence presented at trial, while manning a military checkpoint, Green and other fellow soldiers discussed raping and killing Iraqis. Trial evidence showed that Green and others then took off their uniforms, put on black clothing, left their post and forced their way into the nearby home of the Al-Janabi family. Evidence presented at trial proved that Green then took the mother, father and six-year-old into a bedroom where he shot and killed them. In the living room, Green and the other soldiers raped the 14-year-old and then Green repeatedly shot her in the face and set her body on fire. Green then tried to blow up the house, according to trial evidence, after which the soldiers returned to their checkpoint. After committing the rape and murders, trial testimony revealed that Green bragged to others that the experience was "awesome.""While the scars from these tragic crimes, including the senseless murder of four innocent Iraqi civilians, cannot be erased by the jury's conviction and sentence of Steven Green, we sincerely hope the victims' family may find some solace in the United States' commitment to justice in this case," said Assistant Attorney General Lanny A. Breuer of the Criminal Division. "The defendant's brutal actions detailed at trial are an affront to the rule of law and stand in stark contrast to the admirable conduct of the brave men and women of the U.S. armed forces who serve our country with honor."
Abeer Qassim Hamza al-Janabi is the 14-year-old Iraqi girl who was gang-raped, murdered and set on fire on March 12, 2006.
On the day of the attack, Barker and his fellow accused played cards, drank Iraqi whisky mixed with an energy drink and played golf.
At some stage, they decided to go to the house of a girl they had seen passing by their checkpoint.
When they arrived at the home, former Private Green dragged the father, mother and younger sister into a bedroom, while Abeer was left in the living room.
In the statement, Barker said Cortez appeared to rape the girl, and he followed. He said he heard gunshots and Mr Green came out of the bedroom, saying he had killed the family, before raping the girl and shooting her with an AK-47.
Barker said he poured kerosene on the girl's body, and she was set alight. It was not clear who started the fire.
A cousin who found the burning bodies of rape victim Abeer Al-Janabi and her mother Fakhriya Taha Muhasen, 34, father Qassim Hamza Raheem, 45, and her 7-year-old sister Hadeel Qassim Hamza, and her younger brother. in March 2006 testified that he never suspected American soldiers were responsible.
"I thought it had to be terrorists," Abu Farras testified in U.S. District Court on the first day of the capital murder trial of former Army soldier Steven Dale Green. "This was a massacre, not a crime. I thought no American would do such a thing."
Abeer's brother, 15-year-old Mohammed Al-Janabi, who was left an orphan by the murders, testified that when he came home from school on March 12, 2006, he didn't know the smoke coming from his family's home was from his sister's body, which had been set ablaze.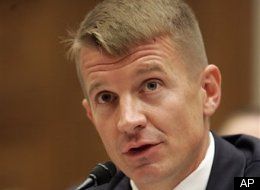 Washington Post Staff Writer
The founder of Blackwater USA deliberately caused the deaths of innocent civilians in a series of shootings in Iraq, attorneys for Iraqis suing the security contractor told a federal judge Friday.
The attorneys singled out Erik Prince, a former Navy SEAL who is the company's owner, for blame in the deaths of more than 20 Iraqis between 2005 and 2007. Six former Blackwater guards were criminally charged in 14 of the shootings, and family members and victims' estates sued Prince, Blackwater (now calledXe Services LLC) and a group of related companies.
Erik Prince is the founder of Blackwater mercenaries. Erik Prince is the son of a billionaire Michigan industrialist named Edgar Prince. His father was a generous contributor to right-wing evangelical "Protestant" causes and Erik became a major contributor to Catholic organizations….He founded Blackwater in 1998. Tim LaHaye and the Council for National Policy. In 1981, Tim LaHaye was the founder of a highly secretive conservative think tank called the Council for National Policy dedicated to turning the nation to the right. One of the founding members was named Edgar Prince, father of Erik Prince, the secretive founder of the Blackwater mercenaries: The 5th branch of the CONfederate military is called BLACKWATER after the area in Camden County, North Carolina, where the mercenaries train. Of course they don't call themselves mercenaries but private contractors. Their founder, Erik Prince, is described by the media as a RIGHT WING EVANGELICAL CHRISTIAN!!
A decade ago, the company barely existed; and yet, its "diplomatic security" contracts since mid-2004, with the State Department alone, total more than $750 million. Today, Blackwater has become nothing short of the Bush administration's well-paid Praetorian Guard. It protects the U.S. ambassador and other senior officials in Iraq as well as visiting congressional delegations; it trains Afghan security forces and was deployed in the oil-rich Caspian Sea region, setting up a "command and control" center just miles from the Iranian border. The company was also hired to protect FEMA operations and facilities in New Orleans after Hurricane Katrina, where it raked in $240,000 a day from the American taxpayer, billing $950 a day per Blackwater contractor.
"But Erik Prince's philanthropy has certainly not been limited to Catholic causes. The Prince family was deeply involved in the secretive Council for National Policy, described by the New York Times as "a little-known club of a few hundred of the most powerful conservatives in the country [which has] met behind closed doors at undisclosed locations for a confidential conference" three times a year "to strategize about how to turn the country to the right." The Council was started in 1981 by the Rev. Tim LaHaye, one of the founders of the modern right-wing Christian movement in the United States and author of the apocalyptic Left Behind novels."' The idea was to build a Christian conservative alternative to the Rockefeller Council on Foreign Relations, which LaHaye considered too liberal. CNP membership is kept secret, and members are instructed that 'The media should not know when or where we meet or who takes part in our programs, before or after a meeting.'
Hal Lindsey is known as the father of modern "Bible" prophecy. His famous Late Great Planet Earth sold over 35 million copies and spawned the billion dollar end-times industry, whose books and videos repeat his dispensational theme, and are patterned after his novel writing style. Lindsey actually is a Jesuit in disguise as 2 of his daughters attended Jesuit Gonzaga University.
That Left Behind series was nothing more than Illuminati propaganda for the Christian community. It has no basis fact on how Biblical prophecy will truly unfold.
Blackwater: Life (and Death) Above the Law | NowPublic News Coverage
Once again, the Israeli army admits of committing war crimes in Gaza.
A Golani brigade soldier confessed that the Israeli occupation forces used Palestinians as human shields during Gaza war last January despite a 2005 High Court ruling outlawing the practice. The soldier said his unit employed a variation of the practice, the so-called "neighbor procedure," when it checked homes for Palestinian resistance fighters.

The soldier's testimony appears in a collection of accounts being published this week by Breaking the Silence, an organization that collects Israeli soldiers' testimony on human rights abuses by the military.

In a print and video testimony published on Wednesday by the activist group, the 30 soldiers say they were commanded to shoot first and then worry about civilian causalities adding that the Israeli army's imperative was to minimize its own casualties to ensure Israeli public support for the Gaza operation. A Palestinian rights group has stated that 1,417 Palestinians were killed, 926 of them civilians, during the Israeli war on Gaza. But Israel has put the death toll at 1,166 and estimated 295 dead were civilians. Ten occupation soldiers and three settlers were also killed.

The soldier, a staff sergeant, said that in his unit and others, Palestinians were often sent into houses to determine if there was anyone inside. "The practice was not to call it 'the neighbor procedure.' Instead it was called 'Johnny,'" the soldier said, using Israeli military slang for Palestinian civilians. The Israeli occupation employed this practice extensively during the second intifada, before it was outlawed by the High Court of Justice in 2005.

In an incident his commanders told him about, three "armed militants" were in a house. Attack helicopters were brought in. "They … again sent the [Palestinian] neighbor in. At first he said that nothing had happened [to the armed men]," the soldier said. "Again they brought in attack helicopters and fired. They again sent in the neighbor. He said there were two dead and one still alive. They then brought in a bulldozer and began to knock the house down on him until [the neighbor] entered." The soldier said he had been told that the only militant remaining alive was captured and turned over to the Shin Bet security service.

The Golani soldier also testified that his commanders reported incidents in which Palestinians were given sledgehammers to break through walls to let the army enter through the side of houses. The army feared that the doors were booby-trapped.

The soldier said he had heard of other instances in which Palestinian civilians were used as human shields. One time, for example, a Palestinian was put at the front of an Israeli military force with a gun pointed at him from behind.

The Israeli military Spokesman's Office, for its part, said that "the IDF regrets the fact that a human rights organization would again present to the country and the world a report containing anonymous, generalized testimony without checking the details or their reliability, and without giving the IDF, as a matter of minimal fairness, the opportunity to check the matters and respond to them before publication."

For his part, Israeli Defense Minister Ehud Barak responded to the report saying that "if anyone has any criticism, information of reservations over the IDF's operations, they must direct them to me as the State of Israel's defense minister and to the Israeli government, which was the one to order to IDF to restore calm in the southern communities." Minister Barak added, "Criticism directed at the IDF by one organization or another is inappropriate and is directed at the wrong place. The IDF is one of the most ethical armies in the world and acts in accordance with the highest moral code."
Barak asserted after the war that Israel had the "most moral army" in the world.

SHOOT FIRST, WORRY LATER!
Moreover, a number of Israeli occupation soldiers who took part in Israel's recent Gaza aggression were quoted by Breaking the Silence group as saying that they were urged by commanders to shoot first and worry later about sorting out civilians from combatants. Accordingly, they say, the force went into Gaza with guns blazing.

The 112-page report by Breaking the Silence includes testimonies of 30 soldiers "who served in all sectors of the operation".

"Better hit an innocent than hesitate to target an enemy," is a typical description by one unidentified soldier of his understanding of instructions repeated at pre-invasion briefings and during the 22-day war, from Dec. 27 to Jan. 18.

"If you're not sure, kill. Fire power was insane. We went in and the booms were just mad," says another. "The minute we got to our starting line, we simply began to fire at suspect places. In urban warfare, anyone is your enemy. No innocents."

"We did not get instructions to shoot at anything that moved," said one soldier. "But we were generally instructed: if you feel threatened, shoot. They kept repeating to us that this is war and in war opening fire is not restricted."

UMBRELLA OF FIRE
The report repeats charges denied by Israel that white phosphorus was fired indiscriminately into Gaza streets. It cites "massive destruction was unrelated to any direct threat to Israeli forces" and "permissive" rules of engagement.

One soldier said that his unit had received an order to "ignite" an area. "The way to do that was to actually fire phosphorus shells from above," he said. "What the phosphorus does is to let out an umbrella of fire over the target and naturally that ignites the whole house." The results of a white phosphorus bombardment were "upsetting" another soldier said, "because in training you learn that white phosphorus is not used, and you're taught that it's not humane".

The report also mentions armored bulldozers razing whole areas including gardens, and olive and orange groves. "We didn't see a single house that was intact … that was not hit. The entire infrastructure, tracks, fields, roads, was in total ruin. The D-9 (bulldozer) had gone over everything," the report quotes a soldier as saying.

Outcry Against Gaza "War Crimes" Grows: CBS News